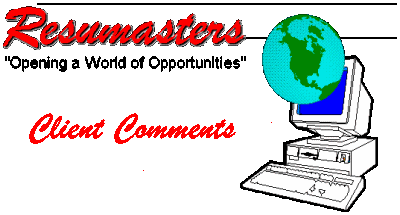 ---
Hundreds of clients have submitted written comments regarding resume work and job search assistance services provided by Tony McCune. Hundreds more have responded by telephone. Client comments reported here reflect the flavor of response received. Where are the negative responses? No client who has ever accepted advice regarding resume-related products to use, including cover letters, and content has ever submitted a complaint. Over more than a dozen years it has been demonstrated that the more advice clients accept the higher the quality of results that are generated.
---
DEANNA - Secretarial

" Tony used his superior writing skills to turn my resume into something so interesting that employers were waiting to meet the person behind the resume."

"I'm very practical with money and this was well worth it. Other places offer their services for less, and less is exactly what you get. With Tony you're paying for quality with a personal touch."

---
MARIE - Sales

"I knew Tony was the only individual I would consult and entrust to help me develop a superior resume."

"He was able to pull the information out of me. Even when I had trouble putting ideas or experience into words."

"At each of my interviews at least one, if not more, individual commented on my superior resume."
---
KERITA - Manager - Social Service

"He takes great pride in providing the best resume for your money."
---
TRAVIS - Sales

"Not only does Tony put your resume together, he gives helpful advice on interviewing and job searching as well. Tony provides his customers with a quality, custom-made resume that stands out from the rest."

"At least 20 interviews in the course of 6 to 7 weeks."

"A job in the same week as my college graduation."
---
ED - Information Systems/Accounting

" I was unsure at first, but when I saw the response that I received as opposed to what I had in the past I knew it was well worth it."

"As a client, make sure to follow all advice given to the t."

---
MITCHELL - Sales/Territory Manager

" Listen to Tony's recommendations. I questioned them but used his methods and was rewarded in my job search."

" I had 3 job offers in my employment search."

---
KELLEY - Location/Sales Manager

" I have recommended several people to Tony - he won't waste your time and he'll do the best job for you."

"I was offered numerous positions within a few weeks. It was nice to have a choice of positions to choose from."

---
CYNTHIA - Interior Designer/Drafter

"I sent out 5 resumes and received 4 calls and 3 interviews."

---
JEANETTE - Benefits Representative

" Suggestions given to me for relocation were definitely effective."

"Received many follow-up calls and interviews because of the advice given me."

---
TIM - Insurance Underwriter

" The resume looks great and gets good compliments."

" [resume creates] Confident feeling you have in interviews."

---
CHUCK - Maintenance Manager

" Found the resume to be precise with good focus. Addendums handed out at interviews worked well in answering questions."

"Generated response from many companies. Have had 3 jobs from [Tony's] resumes."

---
LISA - MRI/CT Technologist

" It was most certainly worth the price. As the saying goes, 'you pay for what you get.' I would rather pay more and get a nice resume. You will be remembered."

---
DAVID - Maintenance Technician

"Quick response from all prospects; 8 interviews secured with 8 marketing letters. Two interviews led to jobs."

---
TOM - Group Manager

" Sent 50 resumes and had about a 50% [positive] response. I had 3 job offers."

---
JANICE - Teacher

"The services provided helped me to get the job I wanted. The resumes are very professional looking and different than a lot of others I have seen."

"I had 1 interview at a company where there were no positions available. I know I was interviewed because of my resume. I was hired on the spot for the position I wanted and am extremely happy there."

---
SHARON - Receptionist

" Because I was a new college graduate I felt my experience did not warrant an expensive resume. [I felt] my experience was minimal. I could not have been more wrong. It was worth every single penny!!!! I impress myself when I read my resume!"

"I have been offered every single job I have interviewed for!!!!!!!! Several potential employers have commented on my 'very impressive resume'.

---
PATTI - Teacher

"I would recommend this service to someone else. I've already had two principals in 2 different school districts tell me that my resume was nicely done."

---
PUT
in YOUR WEB PAGE