Welcome to the
Online Book Store. Featured is the "JOB SEARCH SUCCESS SERIES" of books related to Resume Writing and Securing Employment.

For Additional Assistance Related to Writing a Resume for Your Specific Job Field... Visit The WRITING YOUR OWN RESUME Page. A series of Writing Guides and Sample Packs Are Available.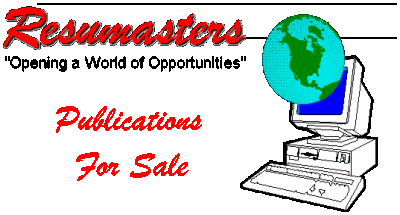 Your Guaranteed Path to
JOB SEARCH SUCCESS


"It's the Extra Effort that Leads to Quality Job Offers"
...By ANTHONY McCUNE
$19.95 +$4 for Postage/Handling



Includes Writing Tips for Resumes and Cover Letters...Suggested Job Search Techniques...Insights from Employers and Personnel Recruitment Professionals


---
WHERE DO I SEND MY RESUME?!?

"Developing an Interview Winning Job Search Strategy"
...By ANTHONY McCUNE
$34.95 +$4 for Postage/Handling

---
"YOU'RE HIRED!"

"Interview Techniques to Get More Offers and Better Compensation"
...By ANTHONY McCUNE
$34.95 +$4 for Postage/Handling

---
ATTENTION GRABBING
COVER LETTERS

"Increase the Success of Your Resume...And Get The Job You Want"
...By ANTHONY McCUNE
$49.95 +$4 for Postage/Handling

---
The Job Winning Resume
COOKBOOK

"Writing the Resume YOUR NEW EMPLOYER Will Love"
...By ANTHONY McCUNE
$49.95 +$4 for Postage/Handling

---
PUT
in YOUR WEB PAGE
---