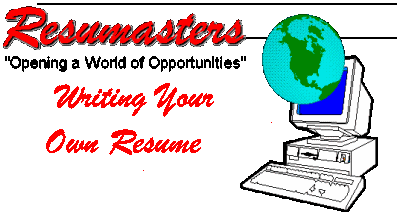 Tips for
WRITING YOUR OWN RESUME...
You are seeking help to write your own resume. Why should you accept the advice given here? There are hundreds and thousands of books, other web sites, disks and video tapes that are available. What makes this advice superior to what comes from university professors, personnel consultants, secretaries or your friends or relatives?
Why? Because the advice here is from Anthony McCune; one of America's most experienced and successful resume writing specialists. Anthony McCune was a writer long before he started doing resumes. Resumasters writes unique... state-of-the-art documents. They are accepted and embraced by employers because employers' needs are best served by McCune's resumes.
You should be warned that you will encounter opinions, insights and recommendations you may not have seen before. You'll see concepts that conflict with what you've always heard about resumes. People exchange bad, inaccurate, out-dated information every day about resumes. This is why this page is being offered for your assistance.
A COVER LETTER is an Integral Part of the Most Effective Resume

A cover letter not only "sets the tone" for your communication to an employer... it is a more effective place to state your "Objective" than in a resume. There are several things that are beneficial to a potential employer to see from a candidate that should appear in a cover letter not a resume. Your availability to interview, salary requirements and specific situation regarding starting a new position should be discussed.

Resumes DO NOT HAVE TO BE limited to 1 page.

Nationally recognized employment experts agree that resumes do not have to be limited to 1 page. When a resume is longer than 1 page, though, it is critical that the first resume page is attractively designed, layed out to be easily scannable and provides the information needed for a potential employer to evaluate a candidate's "qualifications" in 5 to 12 seconds.

A resume [and cover letter package] CAN MAKE A DIFFERENCE not only in producing job offers...but also affecting the quality.

It is important to remember that ALL a person's information on their experience (education, work and personal activities) does not HAVE TO BE presented prior to a personal interview. Use of a modular resume allows each employer contact to be tailored as to what information is provided. Additional pages can be presented in a personal meeting to affect the interview process.

Highlighting information on your qualifications and experience will never benefit you as much as illustrating.

The important thing is the information painting a picture that allows the potential employer to evaluate what the candidate's "current value" is and project the potential value to the new employing organization in the future.

Be ACCURATE.

If it is February and you graduate from college in May...you don't put on your resume that you have a degree. You're a "Candidate" for the degree until you have it. Don't just use years in your employment history. 1995 to 1997 could be 2 full years...or December, 1995 to January, 1997 could be 14 months. Don't just use percentages when showing things like how much of an improvement you made in sales or how much you decreased expenses...if you show the starting and ending number it gives a more realistic "value" of that achievement.

Pursuit of quality job offers does not end when you leave your interview.

FOLLOW-UP is ESSENTIAL to get the largest number of interviews. Every person who interviews you should get a personally written letter. It should be mailed as soon as possible after your interview.

Having a qualified professional doing your resume writing will directly lead to a larger number of interviews, more job offers and higher quality compensation.

Statistics in study after study have proven that professionally written resumes make a difference in the success of job seekers. You should establish a "relationship" with a professional resume writer. Whenever anything significant happens in your "professional life" or you get additional education or get involved in new personal activities your resume writer should be consulted regarding potential changes in your resume and/or cover letter. Spending money for professional resume work is one of the BEST INVESTMENTS you will ever make to ensure employment security and quality of income potential.