Every computer has a template that allows you to easily produce a resume in little time for free; a low quality, cookie cutter document that does nothing to make you stand out from any other candidate. There are hundreds of thousands of pre-formatted computer disks and books that facilitate production of the same type of documents.

What is it that makes Resumasters' clients stand out from the crowd? The expertise of Tony McCune... one of America's most experienced and successful Professional Resume Writing Specialists. This is his story.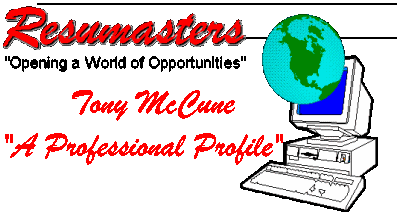 I was fortunate to have the opportunity to launch a writing career as a teenager. After about a dozen tries, my first published work was a letter in Sports Illustrated at 14 years old. Over the next 2 years several letters were published in a variety of national magazines.

At 16 I began writing professionally for a weekly newspaper. I had the good fortune to write news and sports for this publication for 2 years before attending college as a Journalism and Communications major.

I was blessed with an ability for writing; an immense curiosity; a pride in doing good work. My interest in sports and writing were nutured by a wonderful, supportive Grandmother. She helped me develop a true love of life; a strong work ethic; the desire to make a difference.

My early career had the benefit of tremendous mentors. I was able to grow and expand my skills and I concentrated on newspaper writing...attending college and working for daily and weekly publications over an 8-year period.

I also was able to achieve success researching, writing and successfully selling freelance magazine pieces.

In the mid 1980's I began writing resumes; making a conscious decision that one more person doing the same thing as a thousand others was the last thing anyone needed. I studied resume writing techniques extensively... and found similar concepts and approaches repeated consistently.

The early research I did led me to explore merging the concepts of resume and newspaper writing. I was able to achieve a product that effectively met the needs of job seekers while creating a concept that employers found attractive. I found that "telling the job seeker's story"..."painting a picture of the individual's experience" made a world of difference.

This concept has continued to be refined through the writing of more than 15,000 Professional Resumes... leading to the "McCune Method" resumes I am producing today.


I once had the top resume writing office in the Northern Virginia/Washington, D.C. area.. and then managed a chain of 11 offices with great success in Baltimore, Maryland. Since 1987 I have been working primarily with clients in Northeast Ohio.

The internet has been a blessing... making it possible to provide clients around the world with state-of-the-art "McCune Method" resume writing services. I take great pride in the success I have been able to help individuals and companies achieve.

I would like to encourage you to give serious consideration to the use of Resumasters Resume Writing Services. Why? Getting the "best" people into jobs will make all of our lives better... companies will run more efficiently, there will be higher profits for businesses and better compensation for employees. Consumers will get improved products and services with less problems. Getting involved with Resumasters is a win-win situation.
PUT
in YOUR WEB PAGE